The press conference was on the website of the Swedish Health Ministry, posted April 22, and ran just over 45 minutes.
The "controversial" health minister of Sweden, Anders Tegnell, and colleagues revealed the latest results of the Sweden Covid model which—as we all know— did not lockdown, did not quarantine.
What made it "riveting" was this: There is no crisis, no death spikes, no national emergency, no shortage of hospital beds. Listening to the press conference, (twice) and transcribing every word was like watching paint dry. And with each passing moment, the story became clearer and clearer to me:
Sweden can save the world right now.
See full article here: https://uncoverdc.com/2020/04/23/sweden-shatters-lock-down-model-as-curves-stay-flat/?fbclid=IwAR01Vnjmi8vv6ZwrgqRf18eT-z7_5Ebw5qD1Qf11au0es_VtZAeNgeaGvqY
Source: Uncover DC.com, page accessed 1st May 2020.
Sweden Says Controversial Virus Strategy Proving Effective
Sweden's unusual approach to fighting the coronavirus pandemic is starting to yield results, according to the country's top epidemiologist.
Anders Tegnell, the architect behind Sweden's relatively relaxed response to Covid-19, told local media the latest figures on infection rates and fatalities indicate the situation is starting to stabilize.
See: https://www.bloomberg.com/news/articles/2020-04-19/sweden-says-controversial-covid-19-strategy-is-proving-effective?fbclid=IwAR3Qc4d3eI5OLOEHL2FpjlaERzFUmZAR1dAnMLwCRXxxO0s_fT6R8imgwzY
Source: Bloomburg.com, 19th April 2020.
Coronavirus: Stockholm could have 'herd immunity' by next month, Swedish health chief claims
The population of the Swedish capital Stockholm could achieve "herd immunity" from coronavirus within weeks, a health chief has claimed.
Dr Anders Tegnell, the man responsible for drawing up the country's controversial coronavirus strategy, said infection rates in the capital are slowing because people had developed a resistance.
"According to our modellers, we are starting to see so many immune people in the population in Stockholm that it is starting to have an effect on the spread of the infection," he told local media.
See: https://uk.news.yahoo.com/coronavirus-sweden-stockholm-herd-immunity-144733606.html?soc_src=community&soc_trk=fb
Source: Yahoo News, 19th April 2020.
Sweden currently has normal overall mortality levels and has not adopted the strict lock-down policies other countries have.
In the following chart, the purple line is the number of daily deaths since 2020-03-01. The green line is the average 2015-2019.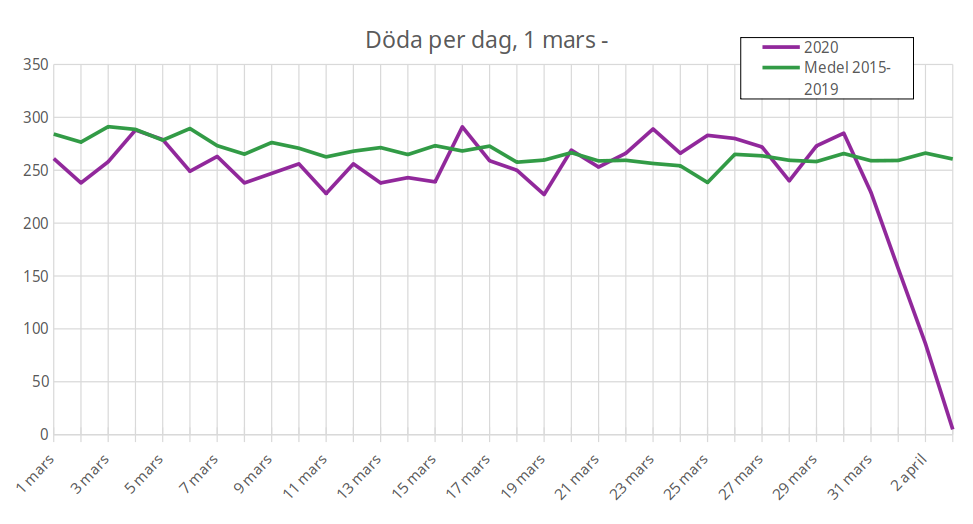 Source: Statistics Sweden (SCB)
Swedish Policy on COVID-19
Swedish policy only recommends that those who are unwell stay at home, and may return to work two days after symptoms have gone. People should be very careful about visiting or working with elderly people.
Public gatherings with fewer than 50 participants are permitted so long as people with symptoms of disease are excluded. This applies to wedding parties and graduation parties etc.
The Public Health Agency of Sweden has decided that, for the time being, it is important that public transport continues to operate and that those who are healthy can get to work or school
Exercise and sports activities can continue. Outdoor exercise is preferable.
Restaurants, bars, and cafés around the country remain open.
Source: Public Health Agency of Sweden
Swedish rationale
Epidemiologist Anders Tegnell, the scientist leading Sweden"s coronavirus battle believes Britain"s lock-down has gone too far and says the UK Government should have stuck to its original strategy.
He revealed that Sweden was "following" the UK"s original approach of resisting full lock-down and said he was "disappointed" when we abruptly altered our strategy.
"I am very sceptical of lock-downs altogether but if you ever do them, you should do them at an early stage," he added, referring to Britain"s delay in acting.
On his advice, Sweden has allowed bars, restaurants, schools, businesses and sports venues to remain open while relying on its citizens to control the virus through social distancing and good hygiene.
"At certain times I suppose they can be useful, if you are unprepared and need more intensive care facilities, for example, but you are really just pushing the problem ahead of you."
Dr Tegnell, whose measures are supported by the majority of Swedes, said: "So far, what we are doing is working. In a sense we are beating it, and I am confident we are doing the best we can in the circumstances."
Source: Daily Mail, 2018-04-01, Scientist leading Sweden's battle against coronavirus says Britain's lockdown has gone too far as his country allows bars, restaurants and schools to remain open
Source: In Proportion 2, 10th April 2020. http://inproportion2.talkigy.com/swedish_policy.html?fbclid=IwAR1rMVoOX9Ehpgl8QstRxmf2eDL2fz3b6HYfv5mtZjRCFsApOOLkZKC0WIw