Welcome
Hello From Vaccine Awareness Network
Qui medice vivit misere vivit – Roman saying, 'He who Lives Medically Lives Miserably'.
Just what I was seeking, awesome website. Thanks for being such a special person to have created this website. Thank you for being strong and standing up for us with factual information on a controversial subject.
I have a hard time standing up for my baby and myself against vaccines but this website truly encourages me to stand firm. God bless you and your family from the bottom of my heart."
– What a member of the public said about this site.
New Covid 19 Page!
See: http://vaccineriskawareness.com/covid-19-news/
Covid 19 Downgraded By Gov Due to Low Mortality, Despite This They Lock Us Down In Our Houses 4 Days Later
https://www.gov.uk/guidance/high-consequence-infectious-diseases-hcid?fbclid=IwAR3vN34_ewOX8okRx7x1oITl3XlPxe3EiRTGAW2G3SSgJKPmuRLVDwiCN6M
According to the government website (accessed 24/03/20): '
As of 19 March 2020, COVID-19 is no longer considered to be a high consequence infectious diseases (HCID) in the UK.
The 4 nations public health HCID group made an interim recommendation in January 2020 to classify COVID-19 as an HCID. This was based on consideration of the UK HCID criteria about the virus and the disease with information available during the early stages of the outbreak. Now that more is known about COVID-19, the public health bodies in the UK have reviewed the most up to date information about COVID-19 against the UK HCID criteria. They have determined that several features have now changed; in particular, more information is available about mortality rates (low overall), and there is now greater clinical awareness and a specific and sensitive laboratory test, the availability of which continues to increase.
The Advisory Committee on Dangerous Pathogens (ACDP) is also of the opinion that COVID-19 should no longer be classified as an HCID.
The need to have a national, coordinated response remains, but this is being met by the government's COVID-19 response.
Cases of COVID-19 are no longer managed by HCID treatment centres only. All healthcare workers managing possible and confirmed cases should follow the updated national infection and prevention (IPC) guidance for COVID-19, which supersedes all previous IPC guidance for COVID-19. This guidance includes instructions about different personal protective equipment (PPE) ensembles that are appropriate for different clinical scenarios.'
If the disease was downgraded on the 19th of March, WHY has the government put the whole of the UK population on lockdown in their houses?  People's civil liberties have been removed without good reason or justifiable explanation. VAN UK is concerned that this is merely an exercise in how to remove human rights from the public.
News about how this group will move forward
The charity commission has made it a requirement that charities must have at least £5,000 a year in donations. V.A.N never made that much in donations. Neither did we want to sell things as our main priority is providing vaccine information to parents. We did not want finances to prevent parents from accessing information that they needed, so fund raising was only ever done in a small way to cover costs of the website, postal costs and occasional leaflet printing. Due to this, we will no longer be a registered charity. However, we were considering making this move anyway since registered charities cannot be political. In light of the current sustained hate speech against what the press refer to as 'anti-vaxxers' and calls to mandate vaccines and ban healthy children from schools, we feel that it is time V.A.N became more political in the upcoming fight to maintain parental rights and informed patient consent in medical decisions. We will be looking to actively oppose potential mandates in the UK as well as mandates in other European countries and we hope to raise money for legal costs or potential fines incurred by parents who opt out of the vaccine programme as well as those who would like to selectively choose which vaccines their children have.  In the coming weeks we will be moving this group in a new direction and will post updates of this process. Thank you to all our past and present supporters.
What We Do
V.A.N provides information about vaccinations that is fully sourced to enable parents to make a fully informed choice about their child's vaccinations.
For Parents Who Don't Vaccinate

We also provide emotional support to parents who have chosen not to vaccinate, through providing links to scientific studies that support their viewpoint, leaflets to explain to others why they don't vaccinate, template letters for schools and referral for legal advice if they need it.
 We have also had meetings for non-vaccinating parents to socialise as well as hosting speakers on natural child-rearing, treatment of childhood illness and pet vaccinations to name a few.
 Our website has been archived by the British Library as a site of historical importance and it is part of a special collection on pandemic influenza.V.A.N has presented talks and power point presentations for other groups as well as debating on various radio shows. We have given free information out at festivals and fairs.
 We have organised protests against mandatory vaccination as we believe that everyone has the right to choose what is put into their body.
For Students and Researchers

We have taken part in ethics committees, attended a meeting with JCVI members to present the other side of the argument and we regularly assist students with their university research into vaccination issues.
For Parents of Vaccine Injured Children

We support parents of vaccine damaged children, through a counselling line with a fully qualified telephone counsellor and referrals to other organisations who can help and we have assisted members of the public with navigating the Vaccine Damage Payments Scheme and informing them about the Yellow Card Reporting System.
We may be able to provide details of doctors and therapies to help recover vaccine injured children, depending on the circumstances.
We have an email service and can call you by arrangement.
For Parents Who Want to Vaccinate in a Safer Way
We provide support for parents who vaccinate, too. We have discussions of pro-vaccine arguments on our site, a debates page and a page dedicated to delayed, selective and spaced out vaccines.
 We can help you find single vaccines (UK and Ireland)
Help finding selective 'vax friendly' pediatricians) in the USA.
.We offer the latest tips on reducing pain during vaccination as well as ideas for reducing the risk of side-effects.
Our Aims
Our aim is to support the right of every parent to give informed consent or informed refusal with ALL the information available.
We believe that the 'Cons' of vaccination should also be presented with the 'Pros' in government  information to parents, that GPs should not be able to remove non-vaccinating patients, that single vaccines should be available to selective vaccinating parents on the NHS and that a full compensation scheme should be available to children under 2 and that the amount of compensation should reflect the Sinjury.
We also believe that medical studies on vaccination should be independent and not funded by the companies that make them and that vaccine companies should not be protected from prosecution as they currently are.
We support the right of every individual to have bodily autonomy in medical care, the right to have access to treatment no matter what the persons choices are and the right to be treated with respect from their healthcare providers.
Dr Graham Downing Discusses Why There are So Many Hate Articles about 'Anti-Vaxxers' or selective vaccinators in the Newspapers
Daily Mirror Publishes Hate Article with FAKE Photo of Baby with Measles
In their article entitled 'Stupid Parents Who Don't Vaccinate Should Go to Jail', they published a photo of a baby with a rash, implying measles rash since the article was primarily about measles and rubella and how it's spread is the fault of parents who don't vaccinate, but the photo they used is a stock photo freely available on the internet and the original stock photo in the picture library shows a healthy baby with NO spots. In addition, measles rash is flat and close together and does not look anything like the added spots. A complaint has been launched with the regulatory body as well as the newspaper.
.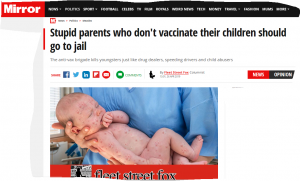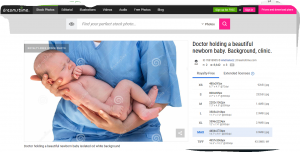 Left Pic: Baby with added 'measles'        Right Pic, identical stock pic without 'measles'
Sources: Parents who Don't Vaccinate Their Children Should Go to Jail, The Mirror, 26th April 2019, https://www.mirror.co.uk/news/politics/stupid-parents-who-dont-vaccinate-14703705?fbclid=IwAR2QMHXD30CCFuN_u-ZC1nb2jD6jOpx6hoaHzGZZbOENuxgUGe6RTsa8Ul0
Doctor Holding a Beautiful Newborn Baby, Background, Clinic, Dreams Time Picture Library, https://www.dreamstime.com/stock-photo-doctor-holding-beautiful-newborn-baby-isolated-od-white-background-image78818905
Vaccinated child had Maine's first case of measles in 2 years, say health officials
The Maine Center for Disease Control and Prevention reported the state's first measles case in two years on Tuesday, adding Maine to the growing list of states affected by one the nation's most severe measles outbreak in decades.
One case of measles involving a school-aged child was confirmed Monday in Somerset County, the state CDC reported.
"The child is vaccinated, did not have any serious complications, and is fully recovered from the disease," the agency said in a news release Tuesday. "Maine CDC notified the facilities where potential exposure occurred and is working with them to ensure potentially exposed individuals are made aware."
Source: Press Herald, 29 May 2019. https://www.pressherald.com/2019/05/21/maine-cdc-reports-first-measles-case-during-nationwide-outbreak/?fbclid=IwAR1BEVwVjeu_I16Zgn5Uq9k1-1PzORLPiv-hGvxGhO_EWmGh2j1p3lEKR7Y
For more cases of measles in the vaccinated, please see: http://vaccineriskawareness.com/news/infectious-diseases-measles-in-the-vaccinated/
Stanley Plotkin on Vaccines
Two Babies in Samoa Die Within Minutes of Receiving MMR
An investigation has been launched after two babies died in Samoa just minutes after getting the MMR vaccine. The Ministry of Health has recalled all stocks of the vaccine and the two nurses who administered the vaccinations have been removed from the area for their own safety. Read more: https://bit.ly/2KJ5Shf

Posted by 1 NEWS on Tuesday, 10 July 2018
Second Couple Lost TWO Children with Immune Deficiency after MMR
Paul Offit, millionare inventor of rotavirus vaccine
Recorded Conversations with Senior Scientist William Thompson
DISCLAIMER: We do not give medical advice as we are not GP's. We merely provide information and research studies surrounding vaccination to enable parents to make a fully informed decision.